Games
American golfer Brian Harman triumphs at The Open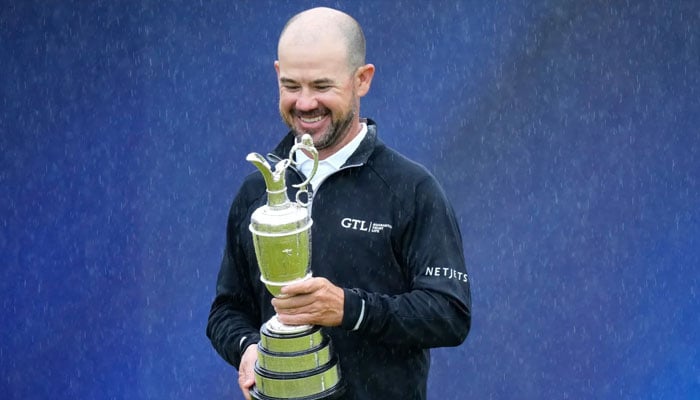 In a commanding display of golfing prowess, Brian Harman emerged as the victorious golfer at the 151st Open Championship. The American clinched his first major title in dominant fashion at the rain-soaked Royal Liverpool golf course, finishing an impressive six shots ahead of his closest competitors, which included Jason Day from Australia, Austria's Sepp Straka, South Korea's Tom Kim, and Spain's Jon Rahm.
Throughout the tournament, Harman exhibited unwavering determination and skill, maintaining a five-stroke lead as he entered the final round. Despite a stormy start, he showcased remarkable composure and carded a closing one-under 70, finishing the championship with an overall score of 13-under par. Harman's remarkable performance earned him not only the prestigious Claret Jug but also a substantial winner's share of $3 million from the total prize purse of $16.5 million.
Ranked 26th in the world, Brian Harman's victory marks a significant milestone in his professional golf career. Although he had previously tasted success with two victories on the PGA Tour, his triumph at the Open Championship is undoubtedly the pinnacle of his achievements, especially considering his runner-up finish at the 2017 US Open.
Following his momentous win, an elated Harman expressed his gratitude to the fans for their unwavering support. He acknowledged the challenging conditions and praised the exceptional setup of the golf course, which contributed to the excitement and competitiveness of the championship.
Brian Harman's remarkable victory continues the trend of American golfers dominating major events. Prior to his triumph, Brooks Koepka secured his third PGA Championship title, and Wyndham Clark celebrated his first major win at the US Open.
As Harman celebrated his historic win, other notable players like Masters champion Jon Rahm and Tom Kim were left to ponder their slow starts, which ultimately impacted their chances at the championship. Meanwhile, for Rory McIlroy, despite his consistent performance at major tournaments, his quest for a fifth major title remains unfulfilled, extending to a decade since his last major triumph at the 2014 US Open.
Throughout the Open Championship, Brian Harman showcased incredible talent and determination, solidifying his position as one of golf's rising stars. His victory will undoubtedly be celebrated as a significant moment in the sport's history, as he leaves an indelible mark on the Open Championship and the world of golf.