UK 2
Bellingham makes Real debut in win over Milan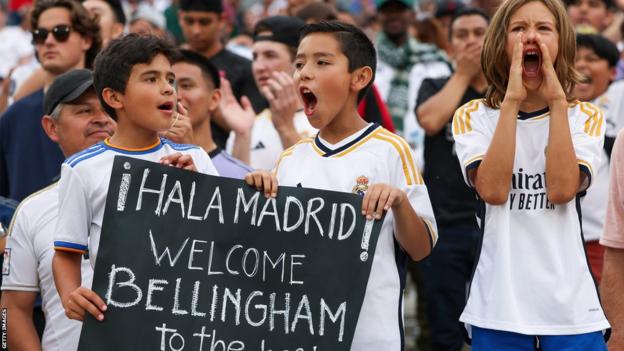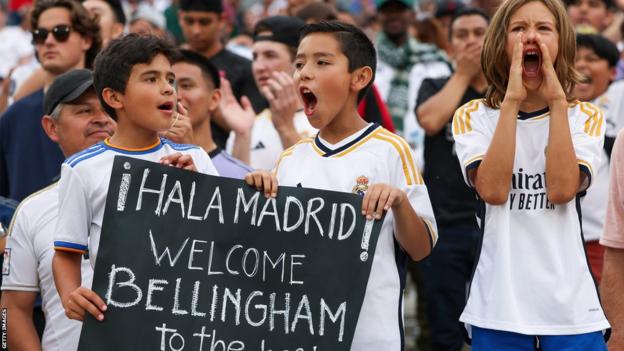 Jude Bellingham's Real Madrid career began in memorable fashion as his new club fought back from two goals down at half-time to beat AC Milan in a thrilling pre-season encounter at the Rose Bowl in Pasadena, California.
It was another Englishman, Fikayo Tomori, who got his name on the scoresheet, heading the opener for AC Milan, but two second-half goals from Federico Valverde and a superb winner from Vinicius Jr, who ran on to a sublime Luka Modric pass, sent the majority of fans in a 70,000 crowd home happy.
And, in his 62-minute debut outing as a Real player, Bellingham did enough to show the Spanish giants will be a better team for his arrival.
Twice Bellingham brought roars of approval from the crowd with flashes of his technique and confidence.
In the opening stages he went on a mazy run by the touchline, leaving a couple of Milan defenders in his wake.
Then, as the opening period drew to a close, a brilliant first-time half-volleyed pass, blending dexterity and a sure touch in a crowded penalty area, almost put Brahim Diaz in on goal.
Real paid Borussia Dortmund £88m to sign Bellingham on a six-year contract. They can already be assured the 20-year-old is the real deal.
Bellingham eases his way into life at Real
At his public unveiling as a Real player last month, Bellingham said he liked the idea of being out of his "comfort zone".
There is no club in the world where the glare is quite as intense for quite as long.
But everything about Bellingham – from his solid family background and parental guidance, to the bravery of his move to Dortmund from Birmingham aged only 17, to his decision not to join any of the Premier League suitors this summer in favour of a switch to the Bernabeu – suggests that if anyone can deal with what lies ahead, it is Bellingham.
"Real Madrid is a big team with big pressure, but from what he did at Borussia Dortmund, he is ready to accept that," said football writer Joel Del Rio, who was covering the AC Milan game for Madrid-based newspaper Marca.
"He is a player who can do everything."
Watching Bellingham in the build-up to the game and then the opening hour, before he was replaced with a congratulatory handshake from manager Carlo Ancelotti, was instructive.
First of all, Ancelotti picked him at the tip of a diamond, which is the role he has earmarked for the Midlander.
It allowed Bellingham to ghost into positions of space as Toni Kross, deployed in the sitting position at the base of that midfield, could dictate play.
The way Bellingham glides across the ground, he makes everything look so easy.
Despite his tender years and the elite trophy-winning environment he has joined, Bellingham is not scared to demand the ball. When he gets it, he rarely takes the easy option.
He already seems to have a connection with former Manchester City forward Diaz.
The pair did the pre-match passing drill together and twice Bellingham almost set the 23-year-old up, first with a flicked pass with the outside of his right foot, which drew appeals for a penalty as Tomori slid in to block, then that beautifully delicate half-volley pass very few players can execute.
The more time Bellingham spends on the pitch with his new team-mates, the greater will be the understand of each side's rhythm.
Judging by the names of the back of the Madrid shirts being worn at the Rose Bowl, Bellingham is not yet vying with Vinicius in terms of popularity.
But there were still plenty of number five shirts – most famously worn by Zinedine Zidane, now with Bellingham on the back – in the crowd.
He is not a particularly showy player but, as Dortmund discovered on that shattering final collapse against Mainz which cost them the Bundesliga title, it is only when Bellingham is not there – missing with a knee injury that also ruled him out of England's final two matches of the season – that it becomes apparent how much he does.
Bellingham was showing signs of tiredness when his outing was brought to an end and, with matches against Barcelona and Juventus to come before Real return to Madrid, it will be interesting to see how much involvement he has against Manchester United – who were so keen to sign him before he went to Dortmund – in Houston on Wednesday.