Games
Hit for six: Germany blow own-goaling debutants away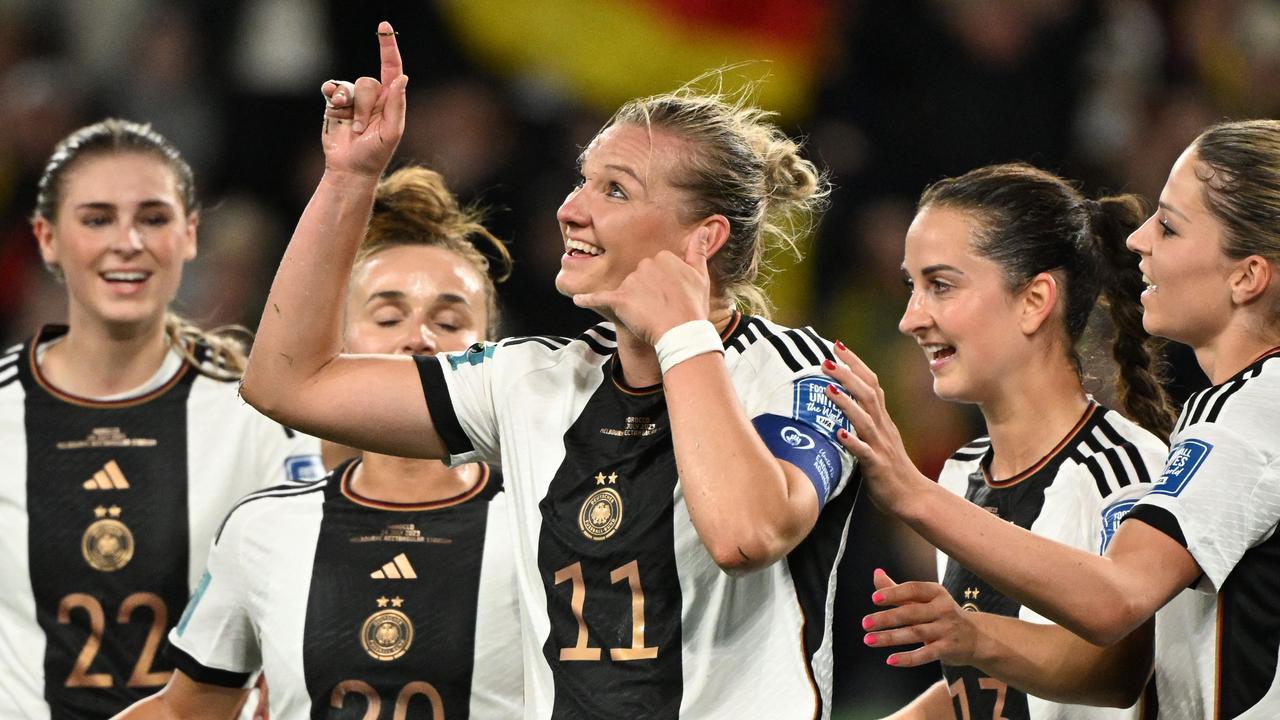 Alexandra Popp scored twice as Germany thrashed Morocco 6-0 to launch their Women's World Cup title bid in style on Monday.
The lower-ranked teams at the first 32-team Women's World Cup have generally held their own so far, indicating a closing of the gap in women's international football.
But two-time champions Germany blew away Morocco – the first Arab team at a Women's World Cup – in Melbourne to record the biggest win of the tournament so far.
The Germans are among the favourites once again, along with holders the United States, England, Spain and France, and they showed why with a clinical performance in front of a near sell-out crowd of more than 27,000.
In their 32-year-old skipper Popp they have one of the best goal-scorers around and she took full advantage of some poor Morocco defending with simple close-range finishes.
Klara Buehl made it three straight after half-time to end the match as any kind of contest, before two own goals and a late sixth from Lea Schueller.
8:35PM GERMANY THRASH MOROCCO TO BEGIN TITLE RUN
Talismanic striker Alexandra Popp scored twice as Germany thumped debutants Morocco 6-0 to launch their Women's World Cup title charge in ominous fashion on Monday.
Popp's 12th-minute header set the Germans on their way in Melbourne and she collected another before the break as the two-time champions romped to the biggest win of the tournament so far.
Klara Buehl added a third in Germany's first attack after the restart before own goals from Hanane Ait El Haj and Zineb Redouani.
A last-minute strike from substitute Lea Schueller completed the rout as Morocco's piece of history – the first Arab team to play at a Women's World Cup – ended in humiliation.
On paper it was the biggest mismatch of the group stage, with 70 places separating them in the world rankings, and the gulf was apparent from the outset.
The Atlas Lionesses showed glimpses of magic and had a goal disallowed. However, a fairytale win never looked likely in front of 27,256 fans at Melbourne Rectangular Stadium, a near full-house.
7:25PM MOROCCO DEFENDER IN LINE TO MAKE WORLD CUP HISTORY
Morocco star Nouhaila Benzina could make history at the FIFA Women's World Cup by becoming the first player to wear a hijab in the tournament.
Benzina is sitting on the bench in Morocco's clash with Germany, in which the Germans are dominating.
She has played matches in an Islamic headscarf before for her club in in Morocco's top women's league.
If she enters the field she will make World Cup history, but she may have to wait until later in the tournament for her chance.
5:55PM SUPER SUB SCORES LATE WINNER FOR ITALY
Argentina's hopes of a double World Cup win have taken a massive blow, after falling to Italy 1-0 in their opening clash of the FIFA Women's World Cup.
After 86 minutes of hard-fought football, it seemed as though the two countries were going to play out the third scoreless draw of the tournament.
Le Azzurre had looked the most likely to score throughout the match, but two goals were ruled out for off-side and Argentina were close to earning a point.
Enter super sub Cristiana Girelli, who met Lisa Boattin's cross with a brilliant looping header over the keeper to send the Italian fans into a frenzy.
Argentina now find themselves at the bottom of Group G after the first round of games, and will come up against South Africa next in a must-win clash.
Argentina's men won the 2022 World Cup in Qatar, after beating France 4-2 on penalties following a 3-3 draw after extra time.
4:03PM WORLD CUP FANS GO VIRAL FOR HEART-WARMING GESTURE
Whatever the event, Japan will always have the greatest fans in the world.
Footage of supporters cleaning up after their side's 5-0 annihilation of Zambia on Saturday has gone viral and not for the first time.
Japanese fans have become known for their efforts to clean stands after they did so at the men's 2022 and 2018 World Cups.
According to reports, Japan's national women's side were also thanked by FIFA for leaving their dressing room spotless.
3:45PM 'GAY PLAYERS' PROBE SHUT DOWN BY FIFA AMID SAFETY FEARS
A World Cup press conference was reportedly shut down by FIFA after Morocco's captain was asked if there were any gay players within the team.
Morocco are breaking new ground in Australia after becoming the first Arab country to be represented at a women's World Cup and as such the question regarding same-sex relationships in the camp was judged to have presented a player safety issue.
Sam-sex relationships are illegal in Morocco.
A BBC reporter is understood to have probed Morocco captain Ghizlane Chebbak on the matter.
"We know that gay marriage is illegal, are there any gay players in the team, and how it's like for them," they asked.
According to those in the room, the FIFA moderator stopped the line of questioning reminding media that they were not there to discuss politics. Others were said to be "audibly dismayed".
Chebbak also avoided answering questions about Nouhaila Benzina being the first player to wear a hijab at a women's World Cup.
Morocco open their campaign against Germany today (Monday) before playing South Korea, and Colombia.
3:10PM HERE TO CAUSE HAVOC
Philippines coach Alen Stajcic is backing his Women's World Cup debutants to "crash the party" when they play co-hosts New Zealand.
New Zealand are on a high after beating Norway 1-0 in the tournament opener to end a 15-game winless streak at Women's World Cups dating back to 1991.
The Philippines lost 2-0 to Switzerland in their first game at the finals in New Zealand and Australia but proved to be no pushovers.
A capacity crowd is expected in Wellington, with most cheering on the home side, but the Australian Stajcic said Monday: "You have to block all that out and embrace it.
"It's a brilliant occasion, so to be playing in front of such a big crowd and TV audience is a really special moment.
"You have to go out there and give it your best shot, so as motivating as it will be for New Zealand, it is for our team as well."
1:12PM KERR SITS IT OUT – AGAIN
Captain Sam Kerr was again reduced to a spectator's role at Matildas training on Monday, while defender Alanna Kennedy wasn't part of the main group for at least the opening stage of the session at the Queensland Sport and Athletics Centre.
The injured Kerr's left calf was strapped as she stood to the side of the field speaking to a member of the squad's medical staff.
After watching the early stages of training, the star striker departed the training area.
Having already missed Australia's opening match of the FIFA Women's World Cup, last week's 1-0 win over Ireland in Sydney, Kerr also won't play at Suncorp Stadium on Thursday night when the Matildas meet Nigeria.
Matildas defender Charlotte Grant said: "Of course we want Sam out there, but she's just going to give lots of energy to those girls that are playing her role."
Kennedy, who was a key part of Australia's defence against the Irish, was on restricted duties on Monday as part of load management.
The Manchester City centre-back had been hampered by injuries before making a successful international return in Australia's 1-0 tournament warm-up win over France on July 14 in Melbourne.
Her performance in that match ensured her selection against Ireland in the heart of Australia's defence alongside Clare Hunt.
The Matildas, who lead Group B on three points, two more than Canada and Nigeria, can guarantee themselves a spot in the round of 16 with a game to spare by beating the Super Falcons on Thursday night.
12:30PM PELE IN A SKIRT
Nicknamed "Pele in a skirt" by the late football great himself, the Brazilian star better known to fans as "Queen Marta" has her last shot at winning the Women's World Cup at this year's tournament.
The 37-year-old has confirmed this will "undoubtedly" be her last appearance at the World Cup in an interview with YouTube channel CazeTV just before coach Pia Sundhage announced her squad.
Yet Brazil's chances of sending her off with a first world crown look slim, with Marta battling injury in the twilight of her career and the team at a generational crossroads.
"It is to be expected that I am not the Marta of 20 years ago but physically I feel good and mentally I am even better," she insisted.
Marta has however spent a lifetime overcoming obstacles, from a childhood of poverty to sexism and, more recently, the worst injury of her career.
Arguably the best female player of all time, she has come agonisingly close to international glory with the "Selecao", making it to the World Cup final in 2007 and picking up silver medals in the 2004 and 2008 Olympics.
She is the all-time leading goal scorer in World Cups – men's or women's – with 17 in five editions, one better than Germany's Miroslav Klose.
She will now get a chance to extend that record.
11:35AM $828 MILLION STADIUM LEAK
Not ideal eh?
Spend close to a billion bucks on a new fancy stadium – which incidentally is no bigger than the one it replaced – put a roof on so people don't get wet and the bloody thing leaks.
That's the story at Allianz in Sydney where World Cup crowds have been left soaked in spite of the supposed upgrades.
A quick google search tells you this about the new venue.
"No expense has been spared in turning Allianz Stadium into Australia's premier sporting venue with 42,500 seats housed under a roof that keeps in the noise and keeps out the rain."
Yeah, that's awkward.
10:32AM WORLD CUP CHEAT STORM ERUPTS
There is a cheat storm erupting at the FIFA Women's World Cup after vision and audio of Holland coach Andries Jonker ordering a player to "sit down" seemingly to feign injury emerged.
Defender Stefanie van der Gragt scored the only goal as the Dutch began their campaign with victory under a closed roof in Dunedin against the World Cup debutants.
It was not an entirely convincing performance but it sets the Netherlands up for a mouth-watering Group E showdown on Thursday with the USA, who began their bid for a third straight title with a 3-0 win over Vietnam.
Video posted to social media shows what appears to be Joner instructing Daniëlle van de Donk to "sit down" on the field despite being up on her feet.
After a short protest with Donk saying it "Daphne could do it: (we assume Daphne van Domselaar), the midfielder duely sits down on the field and waits for the ref to come over.
During this break in play, Jonker is surrounded by his players working through set pieces and barking out instructions.
Not to sound too Ashes-like but, not really in the spirit of the game is it?
8:15AM PENALTY FARCE BECOMING A JOB
Germany coach Martina Voss-Tecklenburg called for greater "balance" after referees awarded penalties in all of the first eight games of the Women's World Cup.
In about half the cases penalties were given after referees consulted the video assistant referee (VAR).
The sequence of spot-kicks only ended late on Saturday in game nine of the tournament in Australia and New Zealand.
Switzerland took the lead against debutants the Philippines from the spot in the fourth game of the competition after a particularly controversial VAR intervention and consequent penalty decision.
"This is definitely not a penalty in my opinion," former Australia international Heather Garriock said on Optus Sport.
"I think that's pretty harsh." Ramona Bachmann scored from the spot and Switzerland went on to win 2-0. Ahead of Germany's opening match against Morocco on Monday, Voss-Tecklenburg said she had told her players to be particularly wary inside the penalty box.
"I hope that we will see a balance, not only among the players but also among the responsible referees," said the former international player.
"I have been a bit surprised that we have seen that many (penalties) in the initial games." The United States were awarded a penalty in the opening match of their title defence against Vietnam on Saturday following a lengthy VAR check.
Alex Morgan failed from the spot but it did not matter in the end, the Americans going on to win 3-0.
Asked by AFP afterwards about the glut of penalties and if they were being awarded too easily, US coach Vlatko Andonovski said: "I don't know if they happen too easily or not.
"With all the cameras, with VAR and all the angles that the referees are reviewing, I'm sure they're making the right call." "If it's a foul in the box, it's a penalty," he added.
7:15AM ENGLAND STAR'S TATT PROMISE
Jill Scott has vowed to get an extremely daring tattoo if England win the World Cup.
The England Lionesses legend, 36, made the claim on her BBC podcast, Jill Scott's Coffee Club.
She was talking about her infamous swearing incident, when she was spotted mouthing off at a German player during the Euro 2022 final, admitting she would get an acronym of her swearing tirade.
Scott said: "I'm going to make a pact now live on the podcast, OK?
"I don't know if I should be doing this, I've had a few coffees today.
"But when England win the World Cup, I will get FOYFP tattooed on me."
The incident referred to when Scott was fouled by Germany's Syndey Lohmann. The England star immediately sprang to her feet to give her opponent a piece of her mind.
She could be seen saying: "F*** off you f***ing p****" which was caught on camera.
BBC commentator Robyn Cowen apologised to offended viewers straight away as it was clear what Scott said, even without sound.
Scott has since revealed she hates swearing and was embarrassed by the viral moment.
She told talkSPORT: "Keira Walsh said I came on the pitch and was like 'everyone calm down, keep your head, we've got a job to do for extra time' and then obviously that went viral, me swearing at her.
"I do apologise for the swearing, I actually hate swearing away from football but once I cross over that white line I feel like I have to be angry and emotional to get my performance out of me.
"She did swear at me first but the camera was the other way but I do apologise."
England's Women's World Cup campaign got off to a winning start against Haiti.
Originally published as FIFA Women's World Cup 2023 schedule, groups, results: Germany thrash Morocco