technology and science
Domestic EV battery production is surging ahead, thanks to small clause in Inflation Reduction Act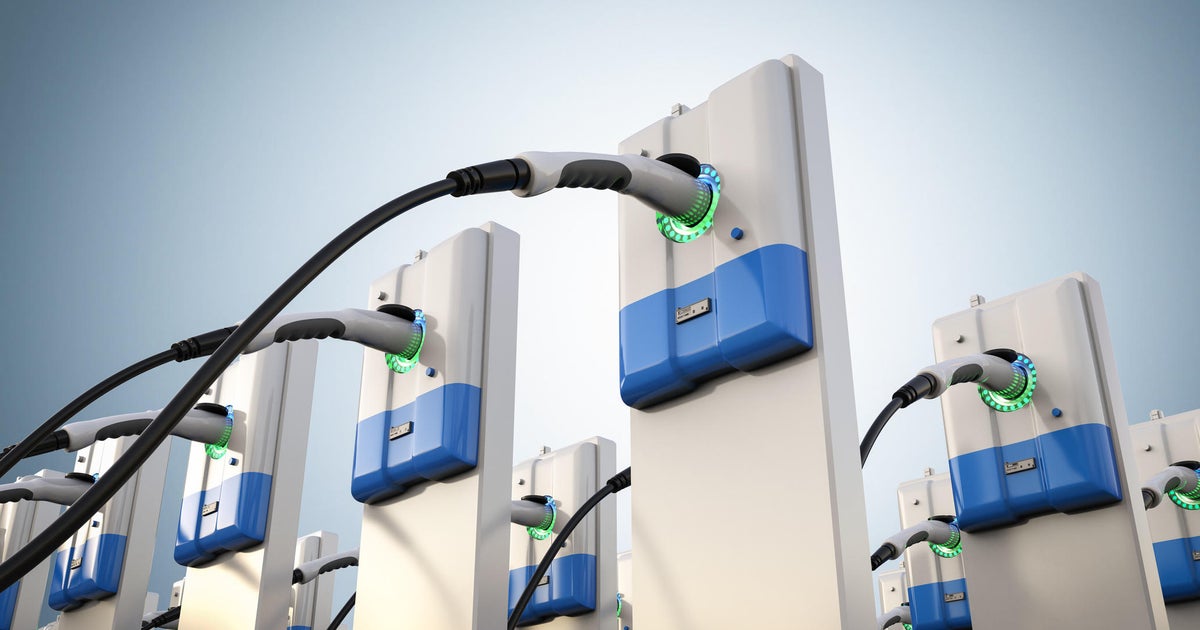 It's not just EV sales that are picking up speed thanks to the government's electrification efforts. Soon, more electric car components could be built in the U.S., potentially reducing the industry's reliance on dangerous and expensive mining abroad. 
Battery recycling is getting a big boost from the Inflation Reduction Act of 2022. That's because of a clause in the legislation titled the "Advanced Manufacturing Production Credit" which grants 10 years' worth of tax credits for the domestic manufacturing of battery cells and modules. Under the provision, batteries recycled in the U.S. qualify for subsidies, regardless of their origin. The benefits of those subsidies are twofold, as automakers who use U.S.-recycled battery materials will also qualify for EV production incentives. 
"[The IRA] changes how [we can provide] all of these batteries that the market now wants and is demanding," Mike O'Kronley, CEO of battery material manufacturer Ascend Elements, told CBS MoneyWatch. Ascend Elements plans to use $480 million from two U.S. Department of Energy grants to build a Kentucky manufacturing plant scheduled to open in the fourth quarter of 2024.
Electric vehicle use is on the rise in the U.S. as drivers search for environmentally friendly alternatives to gas-powered automobiles. EVs made up 6.7% of all vehicle sales as of May 2023, up from 5.2% during the same month in 2022, data from automotive website Edmunds shows. 
In addition, EV registrations rose a record 60% during the first quarter of 2022, representing 4.6% of all new car registrations in the U.S., according to data from financial data firm Experian that was cited by Automotive News.
But electric cars rely on batteries made of minerals like lithium and cobalt, which are mostly mined abroad, according to the National Minerals Information Center. Without a domestic supply chain, EV batteries may eventually run short in the U.S., according to O'Kronley.
"Having more control over the supply chain is really important for automakers continuing to produce vehicles, so we don't have shortages and prices for consumers don't go sky high," he said.
China currently dominates the EV battery industry, both because of its deposits of critical minerals and well-established battery recycling infrastructure. As of 2021, the country boasted more than three times the U.S.' capacity to recycle existing and planned lithium-ion batteries, according to a paper from the scientific journal ACS Energy Letters. The global battery recycling market is projected to grow more than 60% to $18 billion by 2028, data from research firm EMR that was cited by Reuters shows.
Recycling is key to U.S. self-sufficiency
EV batteries normally last for 10 to 20 years before needing to be replaced, according to data from J.D. Power. The good news is that existing batteries can be recycled "infinity times" O'Kronley said.
"One way to help offset the need for additional mining is essentially to recycle the [EV] batteries or to recycle all lithium-ion batteries and to harvest the valuable metals that are in them and then put them back into the battery supply chain," O'Kronley said.
By promoting battery recycling in the U.S., federal grants could ultimately decrease the nation's reliance on using mined materials from abroad. 
"As a country, we don't necessarily want to be reliant on China for such a crucial component of a key technology that will enable [the U.S.' clean] energy transition," he added.