World
Greg Abbott vows to take border buoy fight "all the way" to Supreme Court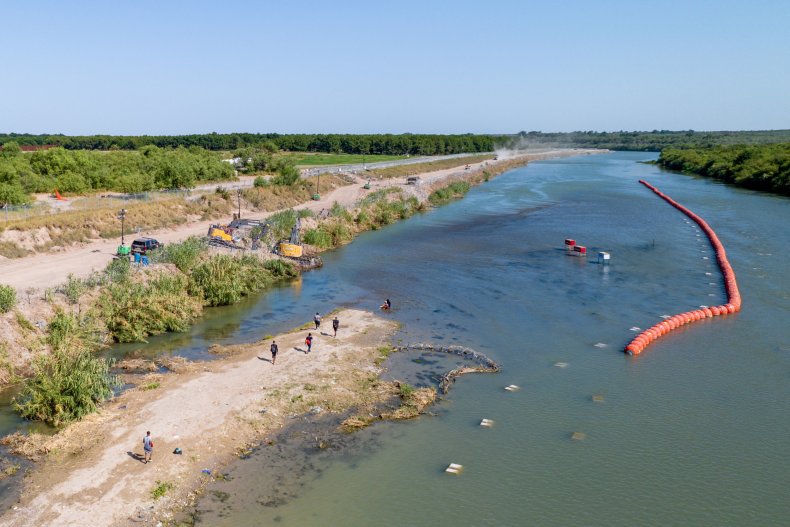 Texas Governor Greg Abbott has vowed to "aggressively defend" his controversial floating barrier, which is at the core of a lawsuit filed by the Biden administration.
The Department of Justice (DOJ) filed the suit in federal court in Austin, Texas, on Monday, accusing Abbott of violating federal law by establishing the structure along the Rio Grande. The floating barrier is made up of large buoys near the border town of Eagle Pass, spanning about 1,000 feet.
The federal government wrote to Texas last week that the state had until Monday to remove the barrier voluntarily or face legal action. Abbott responded in a letter to President Joe Biden on Monday morning that his state would not comply.
"Texas will see the Biden Administration in court to aggressively defend our sovereign authority to secure the border," Abbott wrote on Twitter. "Biden's open border policies created this humanitarian disaster."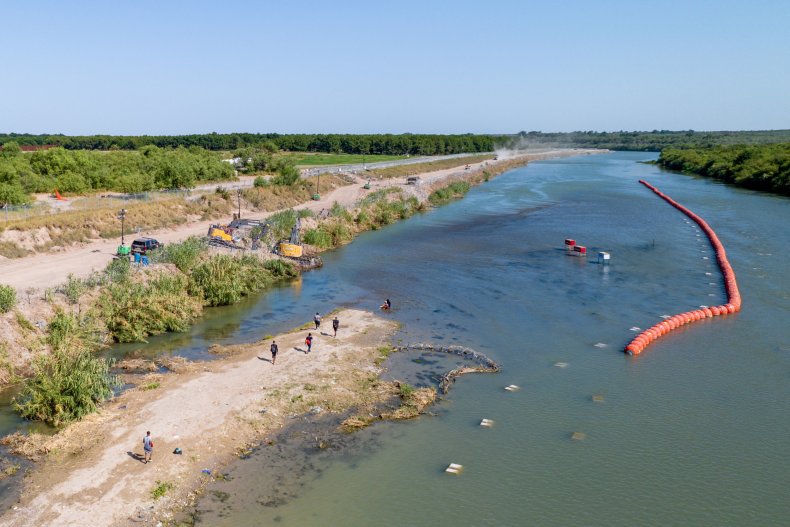 The Republican governor also spoke with Fox News' Bret Baier Monday evening, and promised to litigate the lawsuit "all the way to the United States Supreme Court" if necessary, adding, "Texas is defending its sovereignty and its constitutional right to secure the border, our state and our country."
The DOJ argues in the 32-page lawsuit that establishing the floating structure in U.S. navigable water requires the approval of the U.S. Army Corps of Engineers, which Abbott did not obtain before implementing the buoys this month.
"This floating barrier poses threats to navigation and public safety and presents humanitarian concerns," Associate Attorney General Vanita Gupta said in a statement from the DOJ. "Additionally, the presence of the floating barrier has prompted diplomatic protests by Mexico and risks damaging U.S. foreign policy."
The floating wall is part of a multibillion-dollar effort from Abbott's administration to secure the U.S.-Mexico border. Other controversial methods to deter migrants include new razor wire structures set up near Eagle Pass.
While Abbott's office claims that the new measures are necessary under Biden's border policy, the U.S. Customs and Border Protection (CBP) and Border Patrol reported last week that encounters along the southern border dropped in the month of June following implementation of Biden's new asylum-seeking process.
Critics of Abbott's border polices have also called the new deterrent methods "the definition of evil." The Houston Chronicle reported last week that concerns have also been raised by a Department of Public Safety trooper, who reportedly sent an email to a superior about witnessing numerous injuries sustained by migrants through the new border methods. A spokesperson for the Texas Department of Public Safety previously denied the claims.
Newsweek reached out to Abbott's office Monday evening via email for additional comment.