World
Watch: Luke Combs Invites Eight-Year-Old Cancer Survivor to Sing 'Fast Car' Onstage at Boston Concert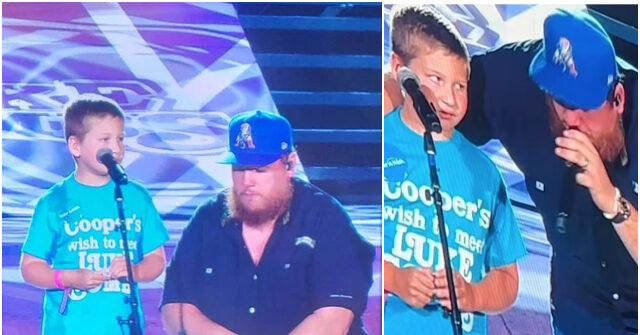 Country music superstar Luke Combs invited an eight-year-old cancer survivor on stage Saturday at Gillette Stadium just outside Boston to sing an impromptu duet of "Fast Car" to a cheering audience who chanted the boy's name.
Cooper Massengill, an eight-year-old from Georgia, was diagnosed with leukemia when he was three and has been fighting ever since, having undergone multiple surgeries, according to a report from CBS News affiliate WBZ-TV in Boston.
"I had gone through a lot of stuff, a lot of surgeries," Cooper told the outlet.
On Saturday, Cooper was sharing the stage with Luke Combs as part of the Make-a-Wish Foundation.
Watch below:
This is the most heartwarming video I've seen in a while.

Luke Combs brought a young kid whose Make-A-Wish was to meet him on stage… pic.twitter.com/wGen4qztZ3

— Graham Allen (@GrahamAllen_1) July 24, 2023
"It was great to see him get the wish he wanted after going through everything," Travis Massengill, Cooper's father, told WBZ-TV News.
Comb's rendition of "Fast Car" — based on the hit Tracy Chapman single from 1988 — has reached the top of the country charts and has become a crossover success for the country star.
Chapman recently told Billboard: "I never expected to find myself on the country charts, but I'm honored to be there. I'm happy for Luke and his success and grateful that new fans have found and embraced 'Fast Car.'"
Follow David Ng on Twitter @HeyItsDavidNg. Have a tip? Contact me at dng@breitbart.com