Games
Pakistan to participate in 25 sports in Asian Games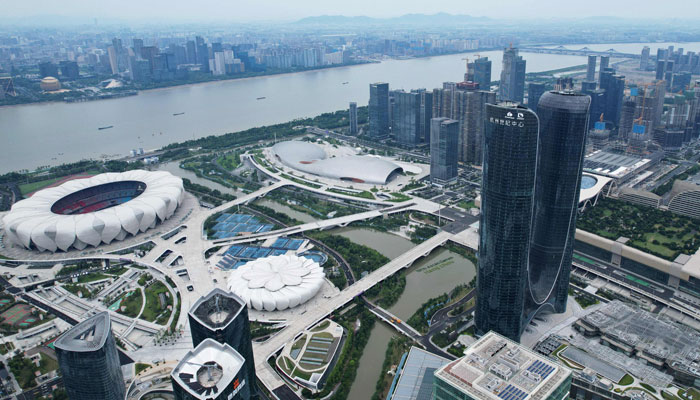 KARACHI: Pakistan will feature in 25 categories at the Asian Games that will be played in Hangzhou, China from September 23 to October 8, according to the final list of athletes of the Pakistan Olympic Association (POA).
Pakistan will be participating in archery, athletics, bridge, badminton, boxing, cricket, climbing, e-sports, fencing, golf, hockey, kabaddi, karate, rowing, sailing, shooting, squash, swimming, tennis, taekwondo, table tennis, volleyball, weightlifting, wrestling and wushu.
Some major sports in which Pakistan will not participate include judo, equestrian, baseball, football and gymnastic. Pakistani athletes will miss participating in these sports due to funding issues and delays in confirming entries.
According to the list of athletes available to Geo News, some renowned names are missing from their respective sports.
These include wrestler Inam Butt, sprinter Mueed Baloch in athletics, weightlifter Nooh Butt and Hamza Khan — who recently won the World Junior Squash Championship in Melbourne.
Inam confirmed to Geo News that he did not appear for the trials that's why his name was missing while Butt's absence is understood to be due to his conflicts with the weightlifting federation.
Baloch's name wasn't submitted by his department to POA as the athletics federation is suspended by the governing body. For Hamza – it is understood that PSF had finalised the squad weeks before the wunderkind won the Junior Championship in Melbourne.
The Olympic Council of Asia had set July 15 as the deadline for countries to finalise the contingent details.
Following is the list of athletes accredited for the 19th Asian Games.
Archery
Idrees Majeed, Mohammad Nadeem, Israr ul Haq, Nighat Hameed, Mohamamd Safiullah Satti.
Athletics
Waqas Akbar, Rabeela Farooq, Tameen Khan, Farhan Illyas, Jaffar Ashraf, Muhamad Afzal, Abid Razaq, Sharoz Khan, Sohail Aamir, Sahib e Asra, Shajjar Abbas, Asad ur Rehman Khan, Mohammad Yasir Sultan, Ghazala Ramzan, Gohar Shahbaz, Arshad Nadeem, Mohammad Akhtar, Farhat Bano, Arooj Kiran.
Bridge
Muhammad Zia Hai, Anwar Mumtaz Kazilbash, Shahab Sarki, Yousaf Jan, Rubina Agha, Samira Jimmy Fancy, Azara Raja, Farooq Ahmed Alvi, Arslan Mansoor, Farrukh Liaquat, Ghalib Ali Bandesha, Masood Mazhar.
Badminton
Murad Ali, Irfan Saeed Bhatti, Ghazala Siddique, Mahoor Shahzad.
Boxing
Zohaib Rasheed, Sanaullah, Mohammad Qasim, Fatima Zahra, Ibrahim.
Climbing
Zaheer Ahmed, Mir Abuzar Faiz, Jannat Amani, Fazal Wudood, Iqra Jilani.
E-sports
Abdullah Sher Afridi, Muhammad Mahad, Shahbaz Ahmed, Uzair Ahmed, Falak Sher Memon, Hamza Khalid, Raja Muneeb Zaman, Shayan Asad, Muhammad Saleh Narejo, Uzair Ali, Daniyal Baig, Mohammad Hassan Chaudhary.
Fencing
Zaheer Mushtaq, Zaima Khalid, Mujaded Awan, Sadia Nasir, Ali Saeeduddin, Mohammad Naeem Sadiq.
Golf
Syed Yashal Shah, Rimsha Ejaz, Salman Jehangir, Qasim Khan, Omar Khalid Hussain, Parkha Ejaz, Humna Amjad.
Hockey
Zakarya Hayat, Usama Bashir, Muhammad Murtaza Yaqoob, Sufiyan Khan, Mohammad Ammad, Arshad Liaquat, Ahtisham Aslam, Mohammad Shahzeb Khan, Umar Bhutta, Rooman, Mohammad Abdullah, Akmal Hussain, Aqeel Ahmed, Rana Abdul Waheed, Abdullah Ishtiaq Khan, Afraz, Abdul Hannan Shahid, Abdul Rehman.
Kabaddi
Sajjad Shaukat, Waqar Ali, Muhammad Imran, Muhammad Ramzan, Adil Hussain, Akhlaq Ahmed, Tehsinullah, Umair Khan, Usman Ahmed, Mudassar Ali, Muhammad Safian, Afaq Khan.
Karate
Sabira Gul, Saadi Abbas, Mohammad Awais, Fakhr un Nisa, Humayun.
Rowing
Muhammad Adil, Muzamil Shahzad, Zahid Iqbal Khan, Asad Iqbal, Babar Khan, Amjad Baig.
Sailing
Nadine Xerxes Avari, Mehboob, Raphael Javed, Zoya Asad Ali, Muzammil Hussain.
Shooting
Mahak Fatima, Kashmala Talat, Zeeshan Farid, Usman Chand, Farrukh Nadeem, G M Bashir, Gulfam Joseph, Inam Haroon, Aqib Latif, Ghufran Adil, Usman Sadiq.
Squash
Farhan Zaman, Sadia Gul, Mehwish Ali, Zaynab Hameed Khan, Nasir Iqbal, Noor Zaman, Asim Khan, Amna Fayyaz.
Swimming
Mishael Hayat Ayub, Azhar Abbas, Mohammad Hamza Anwar, Amaan Siddiqui, Ahmed Durrani, Jahanara Nabi, Ameena Ameer Qadri.
Taekwondo
Aqdasullah Qadeer, Mazhar Abbas, Arbaz Khan, Haroon Khan, Naqsh Hamdani, Naila, FatematuZahra, Hamza Omar Saeed.
Tennis
Ushna Sohail, Aisam ul Haq, Sarah Ibrahim Khan, Aqeel Khan.
Table Tennis
Perniya Khan, Muhammad Shah Khan, Haiqa Hassan, Hoor Fawad, Faizan Zahoor.
Volleyball
Abdul Zaheer, Hamid Yazman, Farooq Haider, Murad Khan, Murad Jahan, Muhammad Hammad, Musawar Khan, Nasir Ali, Usman Faryad Ali, Mubashar Raza, Kashif Naved, Afaq Khan.
Weightlifting
Furqan Anwar, Abdullah Butt, Usman Amjad Rathore.
Wrestling
Zaman Anwar, Inayatullah, Mohammad Bilal, Haider Ali Butt.
Wushu
Maira Karamat, Samreen Altaf, Abdul Rehman, Abdul Khaliq.