World
WATCH – 'F*** Eric Adams!': NYC Mayor Responds Bizarrely to Protester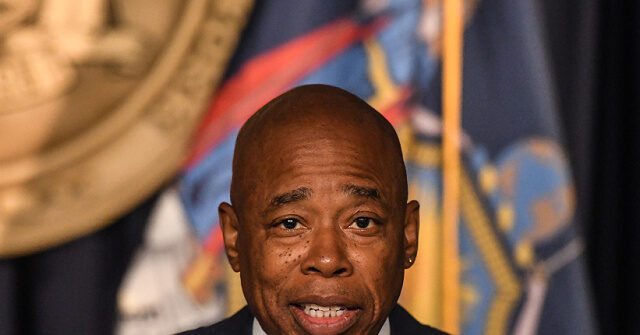 New York City Mayor Eric Adams (D) appeared flustered Monday when a woman criticized his treatment of homeless people in the area.
A woman was apparently protesting during the press conference and shouted a clear yet colorful message at Adams, according to Fox News.
"Fuck Eric Adams! Fuck you, asshole!" the woman shouts in a clip of the incident. Adams laughs awkwardly at her comments, then tells those listening, "She said I'm messing with homeless people."
"You know that? One should be happy if someone wants to make love to them, you know?" he states:
"Fuck you, asshole!" a woman yells at NYC Mayor Eric Adams (D) during his presser.

Mayor Eric Adams, laughing: "She said I'm messing with homeless people … One should be happy if someone wants to make love to them." pic.twitter.com/sr363EtcpN

— The Recount (@therecount) July 24, 2023
The mayor did not explain his comments but continued taking questions from reporters about other matters.
In March 2022, New York City officials were working on an initiative to clear up homeless encampments, CBS New York reported:
At the time, Adams said, "I'm not going to have an inhumane city that allows people to live in inhumane, dangerous environments, no restrooms, no showers, no place to take care of themselves," as the two-week initiative was underway.
In June, documentary filmmaker Matthew Taylor, whose film is called Gotham: The Fall and Rise of New York, told Breitbart News Adams can pull the city back from he brink if he will simply focus on cutting crime, welfare, and the homeless problem.
"I do think that the election of Eric Adams … New Yorkers really were making that decision to unwind what had happened," he said. "And, of course, everyone at first thought it was COVID but it's not just COVID — it's the bad policies under [Bill] de Blasio for eight years and now bad policies under the city council."
Meanwhile, Adams has brought the city to another milestone as border crossers and illegal aliens outnumber New Yorkers living in homeless shelters, Breitbart News reported June 27.
The outlet also noted that "more than 6 in 10 border crossers and illegal aliens who have arrived in New York City since the spring of last year are living off local taxpayers in subsidized housing and shelters — including luxury hotels like the Roosevelt Hotel."
WATCH: Venezuelan Migrant Living Good Life at New York City Taxpayers' Expense
Annonymous Venezuelan Migrant