singapur
'I had no idea': Spectrum of the Seas passengers in the dark after person falls overboard cruise ship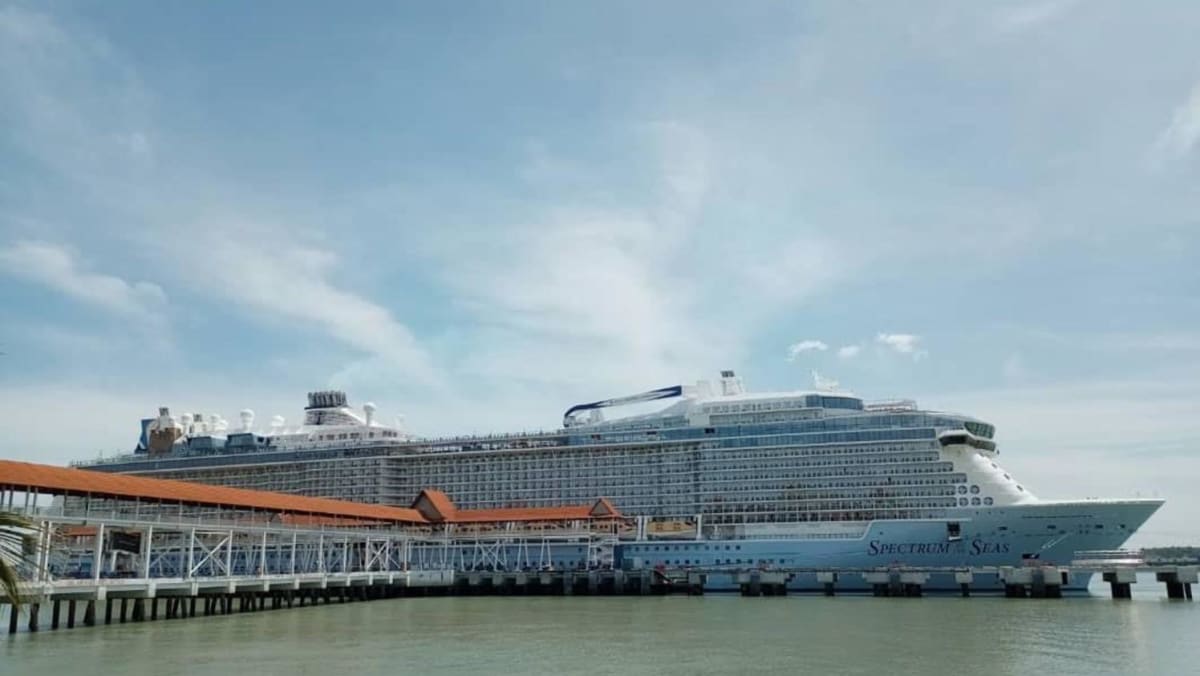 SINGAPORE: Passengers on Royal Caribbean cruise ship Spectrum of the Seas said that they were unaware someone had fallen overboard until news broke online.
Several passengers told CNA that there were a few announcements paging for a woman to report to guest services sometime between 5.30am and 6.30am on Monday (Jul 31) morning.
Mr Pedro Adrian Aguirre was awake and sitting at his room's balcony when he heard the first announcement.
"I thought since (it was the) last day maybe she had an outstanding debt," he said.
Another passenger who only wanted to be known as Ms M Ori, said that there were a few announcements "in the cabins and all over the ship" at about 6am.
These announcements were made within the span of about 30 minutes, she estimated.
"As we have cruised over 50 times we knew something was not right," said Ms Ori.
Another passenger CNA contacted said he did not hear the announcements as he was asleep.
SEARCH AND RESCUE
The Maritime and Port Authority of Singapore (MPA) said on Monday that a passenger had fallen overboard.
In its last update on Monday night, MPA said that search efforts coordinated by the Maritime Rescue Coordination Centre (MRCC) were underway. 
The MRCC was notified of the incident at about 7.50am while the vessel was en route to Singapore.
Royal Caribbean added that the ship's crew immediately launched search and rescue when it was found that the person had fallen overboard.
A care team is currently offering assistance and support to the family of the missing passenger, the company said.
"I would like to think that the cruise line did the correct procedure in order to make it possible to find the person," said Ms Ori, who found out about the incident via a post on Facebook.
She added that passengers were not told of the incident.
"After the announcement in the cabins there was nothing else. Nothing seemed to be (out) of the ordinary and we just went to have breakfast," she said.
"I had no idea and we were chatting to a big group of 20 people before we left … and no one even mentioned a word of it, we were not aware of it. And definitely not told."
Disembarkation was as per scheduled on Monday morning, added Mr Aguirre.
Spectrum of the Seas then left Singapore at 4.30pm, MPA said in a subsequent update at 11pm. Its initial statement, sent shortly after 9pm, said the ship was "currently berthed in Singapore" and "supporting with investigations".
Royal Caribbean International said at 10.30pm on the same day that Spectrum of the Seas had been "cleared by authorities" and sailed as scheduled.
An itinerary on the Royal Caribbean website indicates a 12-night voyage to Tokyo, with stops in Vietnam and Hong Kong, starting on Jul 31.
CNA has contacted Royal Caribbean and MPA for further updates on the missing passenger.