USA 2
Exclusive body cam footage captures crash and arrest of reckless driver on Ocean Drive – WSVN 7News | Miami News, Weather, Sports | Fort Lauderdale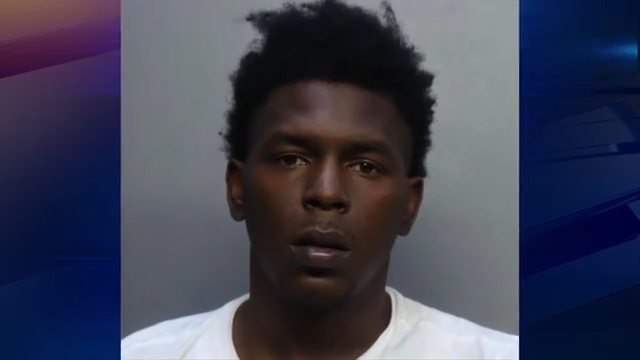 A man fled police after losing control behind the wheel, then making a run for it. The guy took off from a traffic stop but ended up being taken down at gunpoint.
"Crawl out. Keep your hands where I can see them. Crawl on your f***ing knees," said a cop, caught on body cam video.
Officers pointed their guns at 26-year-old Antonio Moton, who they said led them on chases across town before hiding in the bushes of a hotel pool area, as seen on body camera video obtained exclusively by 7news.
"Don't move, don't move," officers said, heard in the footage.
Police said that prior to the arrest, Moton, who's from Jackson, Mississippi, first smashed into one of the lift barriers on Ocean Drive before running and being caught. It happened on June 23rd.
Miami Beach police said it all began with an attempted traffic stop of a driver who had windows that were too dark and who wore his seatbelt improperly.
Officers shouted multiple times for the driver to stop when they allege Moton sped off the wrong way up Ocean Drive and in the bike lane "recklessly without regard for the safety of the pedestrians and bicyclists" according to an arrest form.
The wreck caused the driver to spin out and bail out.
Police said he ran westbound toward Collins Avenue. Using city-issued cameras to track him, the manhunt began where he was later spotted at the Loews Hotel.
Crowds of people on that busy Friday night walked past the arrest spot near 16th Street and the beach walk.
"You want medical attention?" an officer was heard saying to the suspect.
Moton was taken to Mount Sinai Hospital to get checked out before jail, but he wasn't the only one injured.
During the chaotic manhunt, an officer was bitten by a police dog.
"Breathe, you're fine it's a dog bite, ok?" said an officer, consoling her partner.
Fire rescue responded to the policemen, who had injuries to his legs. The department said this can sometimes happen when officers accidentally get into the path of a K-9 trained to go after a suspect.
"Alright, we got him," said a cop while handcuffing Moton.
Moton was arrested and charged with fleeing and eluding police, leaving scene of accident, cannabis possession and resisting arrest.
Some business owners and others who live in the area said they don't want the lift barriers, or security bollards, there anymore for various logistical and safety reasons.
City Hall will be taking up the contention in September.
Copyright 2023 Sunbeam Television Corp. All rights reserved. This material may not be published, broadcast, rewritten or redistributed.